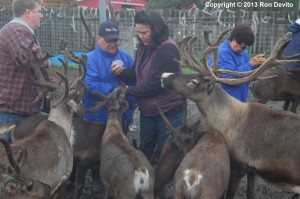 I saw the trail to the Butte off to my right as I drove down Bodenburg Loop Road to the Reindeer Farm now less than a quarter of a mile away. I would check out the Butte later. The Reindeer Farm is home to 150 Reindeer, 35 Elk, 13 Horses, one Bull Moose, and one Bison.
The farm provides boots so you can walk in the mud and not mess up your shoes and pants legs. The reindeer are fed pellets in plastic cups and they will swarm you as long as they see a cup in your hand – even if it's empty. Unlike the musk ox which have no nerves in their horns, reindeer antlers are full of veins and nerves until they harden.
The next animal to be fed was the bison, which vacuumed up large twigs with ease. The farm provides photo ops where people kiss the moose by giving it a carrot mouth to mouth. I gave the moose two carrots this way but did not do the whole kissing routine – that was way out of my comfort zone – but another man did. OK….
…After that, I went to the elk pens, which is a self-guided tour. You have to keep all body parts out of these pens. Elk can be very aggressive. I got some more mountain and cloud formation shots while at the elk pens. I just couldn't resist.
Admission at the time I went was $7 and I bought a small stuffed reindeer toy for $10 as a souvenir.
As I left the farm, I checked the entrance to the Butte. I remembered the Butte, because Bristol Palin had written about her hike up here with Tripp just a few weeks earlier. The Butte is 875 feet tall – 102 feet shorter than 4 WTC in New York. I decided that I would climb the Butte the next day. The trail was a little wet and I did not have my hiking boots with me. With the on-and-off rain, today was just not the day for it.
I moved on to the Matanuska River Bridge turnoff from here.
---
Get your Weekly Photo, Video Digest Now
Enter your email address to get started. We will not give your email address to any third party. Current publishing schedule is one newsletter per post, not to exceed one post per day.