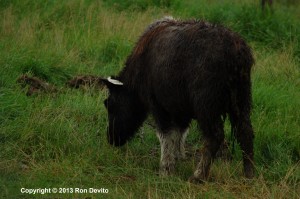 Located off the Glenn Highway at 12850 E Archie Road in Palmer, Alaska the Musk Ox Farm is home to dozens of these domesticated ice age-era animals. The word, "ox," is a misnomer. Musk ox are in the goat family and have cloven hooves. The farm has birthing, yearling, steer and retirement pens. Males that are bottle fed or display excessive aggressiveness are castrated (steers). Females that are inattentive to their offspring are not bred in subsequent years. A male musk ox can weigh up to 800 lbs. and a female up to 500 lbs. Musk ox that die on the farm are not harvested for meat, but are buried.
What is harvested each year is qiviut, which is eight times warmer than wool. Products made with quiviut are sold at Oomingmak on 604 H. Street in Anchorage. Quiviut products are specialty items and are very expensive, but they will keep the wearer warm in a cold winter. The fabric is superior to wool in many ways and the income helps the Alaska Natives. Musk Ox can withstand temperatures down to -80F because of their quiviut and they do not do well in warm weather. Sarah – the tour guide – said when temperatures reached the high 70s and low 80s – a rarity in Palmer, AK – the animals experienced stress.
The farm was established over 60 years ago when the once-endangered animals were imported back into Alaska from Canada and re-introduced.
I bought a small stuffed musk ox as a souvenir. Admission was $10 and the toy was also $10.
My next planned stop after this was the Reindeer Farm also in Palmer, after which I took a stop at the Matanuska River Bridge turnoff on the Old Glenn Highway to take in the vistas there.
---
Get your Weekly Photo, Video Digest Now
Enter your email address to get started. We will not give your email address to any third party. Current publishing schedule is one newsletter per post, not to exceed one post per day.