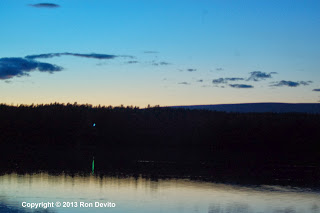 My day concluded right where it had began – Lake Lucille. Some 15 hours ago, the lake was shrouded in pea soup fog. I had gone to and through Hatcher Pass from end to end and from a sweet spot on the lake saw my second double rainbow in as many days. The Schwabenhof parking lot gave me a 360-degree command view of the Mat-Su Valley socked in with rain at one side and blue skies with sun and scattered clouds on the other. I saw moose grazing in Palmer.
The natural beauty of this place captivated my soul and I pondered everything I had done in my short time here so far – now just three days in. I enjoyed the twilight at hours that would be considered deep night in the lower latitudes. Of course, I knew that if I were here in December, I would be seeing this at 1430 / 2:30 in the afternoon. Wasilla gets around four hours of sunlight at the time of the Winter Solstice.

I got clear views of Mount Susitna – the Sleeping Woman and it hearkened me back to Iztaccíhuatl southeast of Mexico City and visible from my wife, Elsy's home there. Iztaccíhuatl means "Sleeping Woman," just as Mt. Susitna is Sleeping Woman up here. I pondered over how Sarah and Todd Palin have their Sleeping Woman mountain and Elsy has hers over 6,000 miles away from here.
Now, here I was back on Lake Lucille watching the twilight – and Todd and Sarah's Sleeping Woman. It was 2224 / 10:24 PM when I took the last photo of what was one of the best days of my life. Tomorrow would be another one of my best days. I was going to climb Flattop Mountain – with Chuck Heath, Jr., Sarah Palin's brother.
The photos in this Lake Lucille album were auto-leveled and noise reduced.