Skylon Tower
Elsy and I got our passports ready and made the journey across Rainbow Bridge. The bridge crossing takes less than a minute, but waiting at customs and immigration took us close to an hour. Weekends are not good times to cross this bridge, especially at the peak of the season when we went. Interestingly, the agent asked if we were carrying anything for personal protection such as mace or pepper spray. "No, I said. No weapons of any kind." Remember – we're entering a foreign country. There is no such thing as a Second Amendment in Canada – and our home state of NY is not too far behind for that matter. The agent, however, was kind enough to give us simple directions that would get us to our hotel.
Elsy did not want to go to the hotel first and then go back out. She was tired enough that if she had gone there, we would have been finished for the day. Our trip to Skylon Tower was spur of the moment. I parked just outside and ran in to get some brochures. The buffet seemed like a good deal. I don't know why – I thought it was CAD $25/person. We were both a little delirious.
The day we left, I was wondering if we should change $100 to $200 into CAD. Parking was $15 CAD and the attendant would accept USD, but would not apply an exchange rate. The Canadian Dollar is worth considerably less than the U.S. Dollar, so if you are using cash for small purchases, do yourself the favor and bring Canadian currency.
Elsy was skeptical about the tower and the parking, for the money but she went along with me. We decided to have the buffet.
Skylon Tower Observation Decks
The observation decks are terrific. The outdoor deck's safety netting actually makes a good monopod to rest a camera lens. Late afternoon through dusk, twilight and and into deep night is the best time of day to come up here. You see the falls and surrounding area as the light changes.
You'll see a white balanced version of many photos here. The white balance is more vivid, brings out more details; but the un-touched photos tend to have a more natural, softer light to them.
For my entire life, my moon photos were way over-exposed and looked like huge white dots on a black background. Tonight, I would start working with different shutter speeds and I was able to get the moon in great detail. Notice the craters and notice the green line under the moon – that's a star.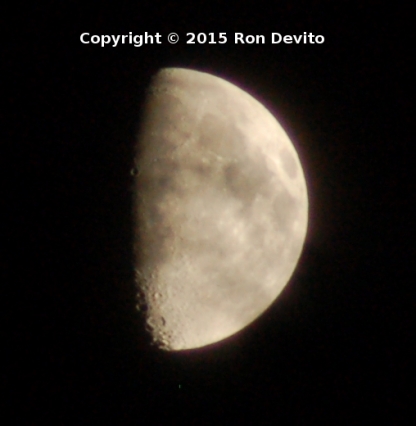 My 60-300 lens is 30 years old and all manual and I was zoomed in at 300. When the moon is this brightly lit you can have a shutter speed as fast as 1/2000…and this is where the big clunky DSLRs shine. You can't do this with an iPhone. Night photography is almost a waste with any smart phone. DSLRs and optical zoom still rules the night. Where iPhones rule is panoramas.
I was able to see Toronto – over 30 miles straight line distance – away (80 miles as you drive), and its CN Tower which we would be visiting tomorrow.
Flipping 180 degrees to the opposite side of the deck, I saw Buffalo….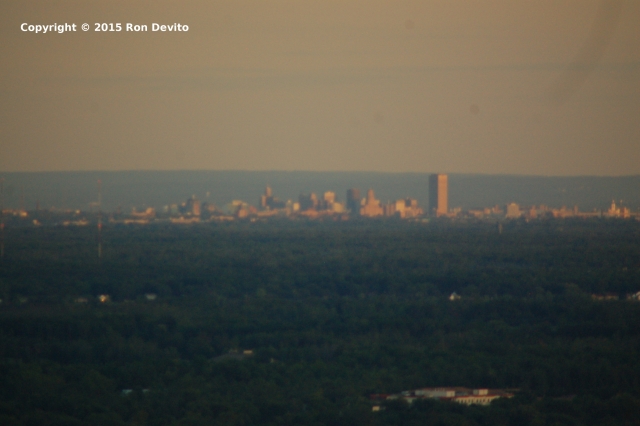 We saw and heard the splendor of the Falls reflecting the setting sun – and got some really gorgeous sunset photos.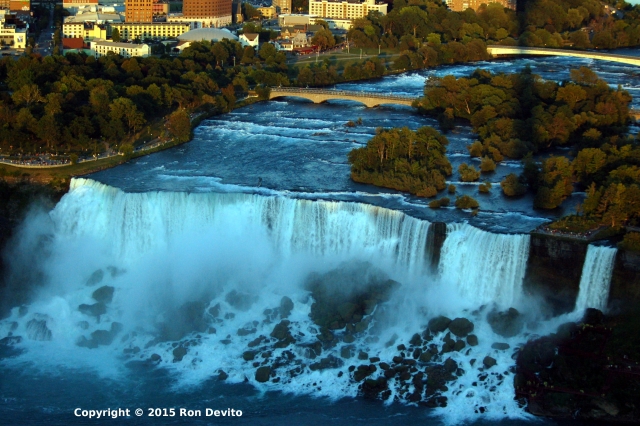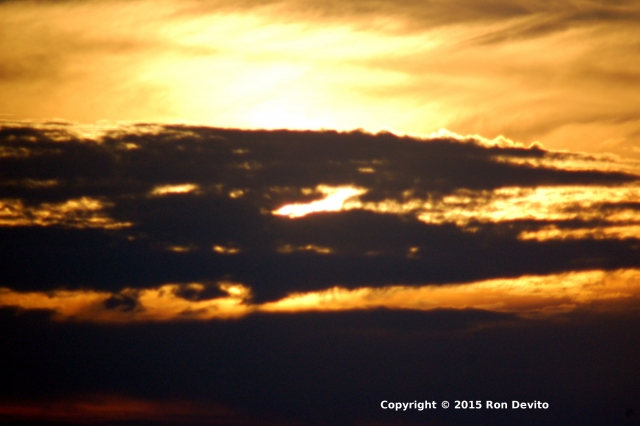 For me, the Skylon Tower observation deck was an excellent lab in which to practice and hone my photography skills for cityscapes, nature, and moon shots.
Skylon Tower Facts and Stats
Skylon Tower celebrates its 50th birthday on October 6, 2015. Though often considered a baby cousin to the CN Tower in Toronto, the CN Tower would not be completed until 1976. Both towers used the same slipform method of construction, even though they were designed by different architects.
Skylon Tower consists of three upper levels: a full-service sit-down restaurant with a rotating floor; a buffet restaurant on the middle level; and an observation deck which is both indoors and outdoors. The observation decks are 775 feet above the bottom of Niagara Falls. Depending on conditions, you can see Buffalo, NY and Toronto Canada from here, and we did this day.
What Skylon Tower Got Right
Adult tickets to observation deck are currently CAD $13.91 at the door and CAD $10.79 purchased online. If you eat at either the full-service restaurant or the price-fixed buffet, the observation deck and the 3D/4D movie are free. I like this arrangement.
From the restaurant, you access the observation deck via a staircase, which is common practice in most buildings and structures outside the United States.
A major complaint about One WTC here in New York is that you must pay the observation deck fee, which starts at $32 if you want to go up and eat. The restaurants are tightly integrated into the observatory at One WTC, which is completely indoors. We don't know if Legends Hospitality will eventually change the layout, which would involve major interior renovations, and adding an elevator stop.
Dining Re-Defining Steve Cuozzo's Tower of Garbage
If the NY Post's Steve Cuozzo thought One WTC's food was a "Tower of Garbage," he should make the trip up here and sample the buffet. He'll come out screaming for One WTC's food.
Though Skylon Tower touts its "celebrated" dining, reviews on sites such as Chowhound have been mainly negative. Elsy and I would tend to agree. Elsy described her potatoes as "horrible." Pasta sauces were greasy, and the prime rib was like shoe leather. There is no seltzer water on draught. You must choose between over-priced Evian or San Pellegrino sparkling water. We did not try the crab legs. Dessert foods salvaged the buffet, but the food absolutely was not worth the USD $92 that the bill ultimately clocked in at.
Sunday Brunch and Lunch Buffets are CAD $27.95 per person; dinner buffets are CAD $39.95 per person. Drinks are extra.
Bottom line: pay for the observation deck, enjoy the views, but eat elsewhere. Souvenir shop prices are fair and reasonable. I bought a 6″ metal model of the Skylon Tower for my collection for about $16 CAD. Well worth it.
Off to Our Hotel…
Finally, around 9:30 or 10:00 we went to check in at the Marriott Gateway. We had driven from Syracuse, NY; spent three hours in Niagara Falls State Park in NY, rode the Maid of the Mist, and came here. We got our gear in the room and went straight to sleep. I did not know it, but we had a big day ahead of us tomorrow….
iPhone 6 Plus Photos
Click Thumbnail to See Larger Image
Nikon D50 Photos
Click Thumbnail to See Larger Image
Nikon D50 White Balanced Photos
Click Thumbnail to See Larger Image