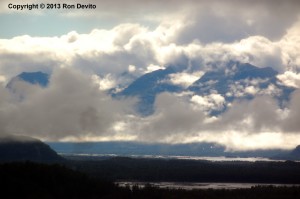 First thing I did in the morning was visit Wunderground to check the weather. Wasilla was a rain-out, but Palmer had localized rain cells and was otherwise clear. The conditions in Palmer were semi-favorable to hike the Bodenburg Butte, but I would have to play it by the seat of my pants. I learned quickly that Alaska has highly localized weather patterns. You could be in a torrential downpour complete with gale-force or even stronger winds in one side of a town, and clear skies on the other.
After stopping at the Mocha Moose, the next order of business was to visit Wasilla City Hall, because this was a critical stop on the Sarah Palin History Tour. From there, I would re-visit the Matanuska River, then climb the Butte.
After leaving City Hall, I drove on the Parks, then the Glenn, following the same route that I took to the Musk Ox Farm and Reindeer Farm the day before.
I wanted to stop at the Matanuska River Scenic Overlook and see the difference from yesterday. You would think I was in a completely different place. Low clouds hung over the mountains and the sun peeked through creating beautiful shadow and lighting effects. I could not contain my fascination. The clouds were halfway down the Butte I would be hiking later. The Marcus Baker Glacier was completely invisible from this spot today. I was able to get photos of a solitary raven flying below me and with lens on f/32 – directly into the sun peeking out through the clouds. The sun was shrouded enough to permit a direct shot like that. The cloud cover would lessen for a while as the day went on.
I bid farewell to this spot. I knew this would be my last time here for the rest of the trip. There was much more to see and do, and the days would go fast. Next, I would re-visit the Matanuska Bridge Turnoff one final time.
---
Get your Weekly Photo, Video Digest Now
Enter your email address to get started. We will not give your email address to any third party. Current publishing schedule is one newsletter per post, not to exceed one post per day.