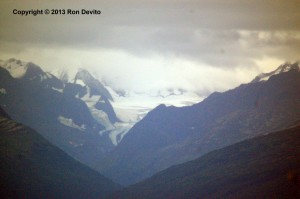 Today, I would visit the Musk Ox and Reindeer Farms, and the Wasilla Museum of Transportation and Industry. Temps were in the high 50s and low sixties with periods of on-and-off rain. I learned quickly that rainstorms in Alaska occur in highly localized cells. You can be in one part of Wasilla or Palmer and be caught in a major downpour while the other side is dry and watching double rainbows.
Some people find rain and clouds unpleasant. I don't. Alaska's Southcentral region cloud formations are nothing short of fascinating and became the subject of hundreds of photos taken throughout my trip. You'll often see low-hanging clouds which cast shadows on the mountains, while sunlight peeks through just nearby. It was amazing to stand on terra firma over an undercast.
On the way to the Musk Ox Farm, along the Glenn Highway (not to be confused with the Old Glenn which runs perpendicular to it) is a pull-off leading to a scenic overlook above the Matanuska river. From here, the Marcus Baker Glacier which feeds the river is visible. The river empties into Cook Inlet. The glacier is visible from many points in Palmer, at Independence Mine, and even parts of Wasilla. If you go further down the Glenn, there are points where you can enter upon and walk the Matanuska glacier, an activity which requires crampons and local knowledge. I did not walk the glacier on this trip, though I had been intending to use Mica Guides for that purpose.
I auto-leveled most the photos in this album to bring out the details. The penalty for auto-leveling is that the process introduces noise. At these sizes and resolutions, I think it's worth the noise penalty.
After taking these photos, I moved on to the Musk Ox Farm.
---
Get your Weekly Photo, Video Digest Now
Enter your email address to get started. We will not give your email address to any third party. Current publishing schedule is one newsletter per post, not to exceed one post per day.