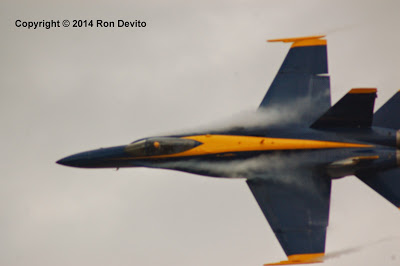 I had not been to the Jones Beach Air Show since 2009. This year, Elsy and I went with Karl Strohmeyer, a friend I had been in contact with, but had not seen in nearly six years. The Jones Beach Air Show is now an hour shorter and aircraft such as the A-10 and the single F-18 or an F-22 were not present this year.
Unlike the three prior shows, I was more selective about photos to post and I divided them into separate albums for each performance within the show. Of course, the Blue Angels were the main attraction, and leading their charge was Fat Albert, a JATO-equipped C-130. The second most dramatic performance for me was the U.S. Navy Parachute Team who bailed out of a C-130 in standard classic Airborne parachutes into the water and were retrieved by boat. The U.S. Golden Knights and the Misty Blues All Women Skydiving Team were also quite dramatic. I wish the Misty Blues would have had more skydivers. I only saw one and could not photograph her in time.
Next year's Jones Beach Air Show will likely feature the USAF Thunderbirds, as they and Blue Angels alternate each year.
Aerobatics
U.S. Navy Parachute Team
V22 Osprey
B17 Yankee Lady, War Birds
U.S. Army Golden Knights
Oracle Challenger III
Geico Skytypers / Miss Geico Powerboat
Blue Angels