I had completed my US for Palin tasks and it was getting late. I had not eaten in nearly 10 hours and had climbed The Butte just a few hours earlier. I was already getting cabin fever and my wanderlust was in overdrive. Wasilla was under a major thunderstorm. I did not care. I needed to eat and I was not going to spend the evening holed up with the computer. I was still undecided as to whether I was going to the Alaska State Fair or to see The Frozen Ground.
Funnel Cloud – in Wasilla!
I headed to Walgreens in the mall off the East Palmer-Wasilla Highway to get some things I needed. As I got into the parking lot, I saw that a significant part of the lot was flooded, because it dips and forms a bowl. As I parked, I looked to the east and I could not believe what I saw….a funnel cloud was beginning to form. I did not take pictures of it. I "reasoned" that it was too dark and they would not come out well. My mind was also racing…if this funnel cloud continued to develop and reached the ground, I would have to know where the tornado was going so I could go in the opposite direction. I've never heard of tornadoes in Alaska, but they have occurred. Quite bluntly, my shock over what I saw overrode my shutterbug instinct. I was transfixed watching this funnel cloud.
This was an object lesson of how Alaska's localized weather patterns can be very unpredictable and dangerous. I could see why many pilots up here don't bother getting an instrument rating. Single-pilot IFR flight involves very large workloads and it's easy to become mentally saturated and overwhelmed. If the weather up here is bad enough to be IFR, it's usually below the minimums of even an ILS approach, so for the general aviation pilot, IFR flight in Alaska is ill-advised even with the rating. Alaska's weather affects all activities on the ground, in the air, and on the water. What if this storm had hit while I was on The Butte, or out canoeing as I would do toward the end of my journey?
The Alaska Division of Forestry took video of a Firenado that occurred on August 16, 2013 – five days before I launched for the Great Land.
These seven videos show a tornado that touched down in Anchorage on September 26, 2012.
The funnel cloud never went beyond the incipient stage and dissipated within minutes. I did not lose my mind. It was a funnel cloud. Other Wasilla residents did see it that night, as Carol of the B&B would later confirm to me.
Alaska State Fair – Super Round-Up
I got my needed supplies in Walgreens and decided I was going to make an attempt for the Alaska State Fair. If the bad weather continued and was in that area, I would simply turn tail back to Wasilla and eat whatever I found here. I was not going to spend my time watching a movie. I was here to see Alaska.
The rain continued well into Palmer, but just as I got to the area of the Alaska State Fair, it had stopped. The Alaska State Fair was under overcast skies but the rain had stopped here; it was still raining just west of the fair. I parked and happily paid the $5 parking and $12 entrance fees.
My first order of business was to go on the Super Round-Up. I so wanted to take a rider's perspective video, but I don't have a Go-Pro. I was considering doing a "Go Amateur" setup with my camcorder taped to my arm, but I decided against risking my equipment becoming a projectile, and it would have looked weird.
Manufactured by Frank Hrubetz USA and introduced in 1954, The Round-Up and Super Round-Up are some of my favorite amusement park / carnival rides of all time. It can best be described as a human centrifuge. The platform is 50 feet and diameter and rotates at 14 RPM, which translates to precisely 2 Gs of force.
The Super Round-Up is a real hoot. The platform spins clockwise and the the arm starts rising till it reaches apogee – 80 degrees from horizontal in the case of the Super Round-up and 57 degrees with the smaller Round-Up. I had taken 4 Gs without issue at the Kennedy Space Center in their centrifuge back in 2007. You feel the force imparting on your left side – particularly your cheek. Round-Ups and Super Round-Ups are used at carnivals and are permanent installations in amusement parks all over the world. While some people will don't like rotating rides, the Round-Up and Super Round-Up have enjoyed a cult-like following for 59 years.
After I dismounted the ride, I took a video of it in operation, but my iPhone had reached its disk space limit. I had a choice: delete the video or not be able to take any more photos or even do anything else with the phone. I left the D-50 back at Carol's B&B. I was not going to take night shots handheld with that thing and no tripod, so lugging that beast around was off the table. The video got deleted.
Double Rainbow
Now, it was time to eat my first meal in 12 hours. I scouted around for reindeer sausage. Nothing. I went for a 1/2-pound buffalo bacon cheeseburger. As the cashier handed me the burger, the Sarah Alarm started blaring. I turned to the right and saw the shaft of a rainbow forming at the base of Pioneer Peak. Sarah and Todd Palin were seeing a double rainbow from their house and the twin shafts were landing across Lake Lucille. I immediately realized what was going on: this was one of the rainbows the Palins were posting about right now! I went straight to work with the somewhat cleared iPhone posting her status, snapping shots of my end of the rainbow and stuffing the bacon buffalo cheeseburger into my big mouth.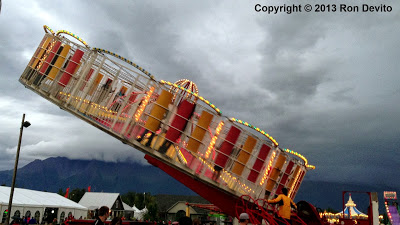 Super Round-Up spinning and rising. I had come off 30 minutes ago.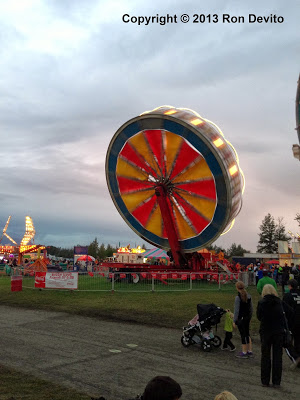 Super Round-Up at apogee.
I took two pics of the Super Round-Up then went to a church tent and got a slice of home-made strawberry-rhubarb pie to finish off the meal. I scouted around the various vendors and just generally enjoyed the atmosphere at the fair. Tonight was fireworks night and the time for them quickly arrived.
Fireworks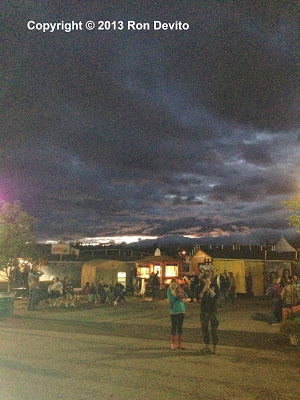 Alaskan Nautical Twilight taken at 2230 / 10:30 PM AKDT.
The Alaskan Civil Twilight had this blueish, greyish color that I had never before seen in the sky. It was something really beautiful. After the fireworks, I took a couple of shots to the west. There was still bright light in the sky where the sun had set – at 2230 / 10:30 PM. This was toward the end of August. I could imagine what June 21 – the longest day of the year – would be like. Up north in Fairbanks, it would be the Land of the Midnight Sun.
The Alaska State Fair is where Sarah Palin received the call from John McCain to be his VP running mate, so this venue will make its appearance in a Sarah Palin History Tour post.
The traffic on the Glenn going toward Anchorage and the Parks interchange was horrible, so I took the East Palmer-Wasilla Highway back instead. I would be rising early tomorrow to go visit Hatcher Pass.
---
Get your Weekly Photo, Video Digest Now
Enter your email address to get started. We will not give your email address to any third party. Current publishing schedule is one newsletter per post, not to exceed one post per day.